Chapter Synopsis
Edit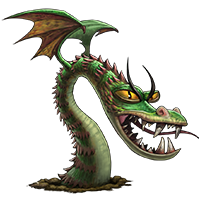 Chapter 4: Travel through the ravaged Hydra Valley, Centaur of Attention's home, and release Hydra from Umlaut's control.
Level 0* - The Raggedy Edge
Edit
The Elven Realm has asked for our aid, but we have to cross a valley overrun with monsters...SIGH.
Level 1 - Under Fire
Edit
Only steps into the valley and we're taken by surprise!
Level 2 - Dragon Dance
Edit
The path has been blocked by dragons!
Level 3* - Along the Watchtower
Edit
We enter the valley and the Centaur stops in his tracks. "Guys, I think I recognize this place."
Dialog Before Wave 3
Level 4 - Ambushed!
Edit
We've been ambushed! To arms!
Level 5 - Second Wave
Edit
This place is creepy. It's cold, it smells, and there are monsters everywhere. The sooner we fight our way out of here, the better!
Level 6* - Snakes on the Plain
Edit
The earth begins to rumble. "Time to greet those responsible for this," shouts the Centaur as he leaps into the fray.
Dialog Before Wave 3
Level 7 - Faint Memories
Edit
Before Umlaut took over, this was a beautiful valley. The Centaur is devastated, but more importantly, really angry.
Level 8 - Scorched Earth
Edit
It's hard to get our bearings. Monsters have made this area barely recognizable.
Level 9* - Across the Chasm
Edit
This bridge is creaking in the most unnerving fashion. Don't look down!
Level 10 - Hydra Spotted!
Edit
Our scouts have spotted the Hydra back at the battlefield!
Level 11 - Forward!
Edit
If we are going to secure this valley, we need to defeat that dragon!
Level 12* - Serpent Showdown
Edit
Time to show the Hydra who's boss.
Dialog After Wave 3
Level 13 - Race to the Forest
Edit
The Hydra is heading for the Elven Realm. We need to beat him to the forest entrance!
Level 14 - Onward!
Edit
We must be close behind it, can't you feel the earth rumbling beneath your feet?
Level 15* - The Second Tower
Edit
This tower used to guard the forest entrance. We'll have to hurry if we are going to catch that dragon!
Level 16 - Got Him!
Edit
Now's our chance!
Level 17 - Epic Throwdown
Edit
This is one epic boss fight! Finish him!
Level 18* - Final Countdown
Edit
Here is where we make our final stand against the Hydra!
Dialog After Wave 3
Note: * are levels that are both Normal and Elite.
Community content is available under
CC-BY-SA
unless otherwise noted.